Food Allergies – How To Spot One
Food allergies are something that will affect all of us at some stage, some worse than others. Foods affect the gut and the immune system differently, again re emphasising what I constantly tell my clients – not all calories are created equally. Allergy symptoms vary from person to person and some you will barely notice and others can be life threatening.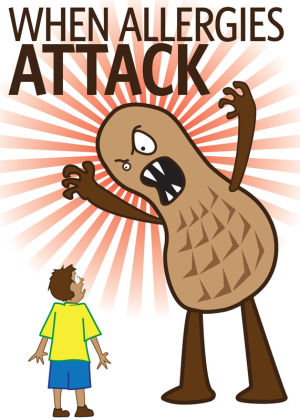 Your gut has to process a lot of different foods each day, often these foods contain many compounds. It is extremely hard to break all these foods down completely. Because not all these foods are broken down fully the immune system treats this food like a foreign invader and launches an attack. Its trying to protect the gut wall which is like a barrier to stop these foreign invaders getting past and into our blood. A lot of people suffer from leaky gut syndrome so a lot more would get past on these individuals,
When these foreign invaders get past this wall thats when the trouble starts and we start to get the "food allergies" Symptoms may take a day or two to occur and we find it hard to link that back because its sometimes 48 ours or more after we eat a certain food. There are many symptoms and often these are overlooked by your GP as has no knowledge in this area. For example one of the big symptoms people see are skin problems but has your doctor ever recommended you to get a food allergy test to see if certain foods may be the problem?
If I were giving advice to bright young kids who had an interest in science and health I would recommend studying to become a functional medicine doctor, if they want an extremely well paid profession. This is where I feel health care is headed and as peoples food choices get worse their health also does too. Knowing which foods are affecting your health will improve your life dramatically – it also cuts out the second guessing when you are in the supermarket or restaurant.
Food allergy symptoms include IBS (irritable bowel syndrome) headaches, , eczema, tiredness, sinusitis and arthritis to name but a few – there are many many more. There are certain foods that are known to be worse than others – Wheat, dairy, peanuts, cashews, strawberries and eggs would show up more often than a lot of other foods (in most people).
We tell clients to cut a lot of these foods (eliminate) for a while and then gradually re introduce them but to be 100% sure that you are not eating something you shouldn't be you should get a test done. Boots do a test that is fairly expensive but is very thorough. I think they send it off to Genova labs in the UK who are world leaders in this field and they then provide feedback on what foods you need to avoid and for how long.
If you are unsure of which foods bring on any symptoms then I would recommend getting an allergy test taken. Aside from this you should consider supplementing with a good probiotic. Glutamine is excellent for the gut too which helps to energise the cells of the intestines and supports the detoxification organs.
I hope I made this topic simple to understand and you now know that the skin problem you have may not need a special lotion which makes the chemists money or whats going on inside your body does not always need to be treated with medicine. Instead a simple food allergy test may be the best money you have spent this year ( after spending it at ProFitness that is!!!!!!)
I you would like a consultation with us about our online training programmes please go to http://www.onlinebodytransformation.com and enter your details and let us take your results to the next level.
Thanks for reading
Adrian Harper